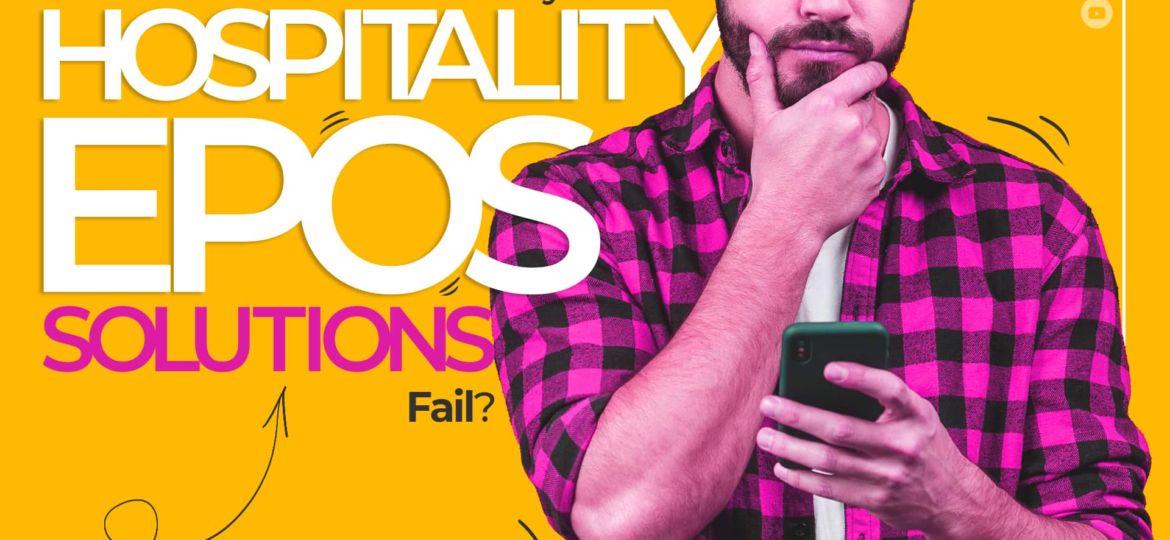 | | |
| --- | --- |
| | It is essential to have enough money for the first 12-16 months after starting your business. This is of the utmost importance because you cannot predict all the costs you might face in the first year. |
Not Having Enough Cash
It is essential to have enough money for the first 12-16 months after starting your business. This is of the utmost importance because you cannot predict all the costs you might face in the first year.
You don't have to spend a bundle on new equipment and furniture, you can consider used equipment too. Another problem with having a lack of funds is that it is doubtful there would be enough money to spend money on marketing, which is absolutely essential for a new business. By buying EPOS software, you can calculate your expenses thoroughly. You just need to choose the best EPOS solution for your business.
Your Restaurant's Location
Location and the region where your restaurant is crucial. When doing research about potential sites consider the following factors:
Who are your potential guests? What are their needs?
The location also determines the menu items of your restaurant, same as restaurant design and concept. Which businesses are around your location?  Research the competition and find out how they do their business. Also, your chosen location should be based on the theme of your restaurant.
If you want to know what kind of people tend to visit your restaurant more, EPOS software loyalty programmes can help you.
Lack of Good Promotion
Because of the digital world we live in today, advertising through people works weaker day by day. So you have to focus on using EPOS software for marketing strategies and set aside a good amount of budget for this purpose. Success won't happen without marketing, so you might as well think about it in advance. This way you can be prepared to face your competitors.
And again, a loyalty programme and gift cards are your best friend here. Use the perks that come with EPOS systems.
You can use your hospitality EPOS software to collect data for upselling and cross-selling strategies. You should know that cross-selling has the ability to increase your revenue.
Upselling means persuading customers to buy a fairly similar product of higher value. On the other hand, cross-selling means offering customers a related product in addition to their main purchase.
All this data is on your hospitality EPOS software, therefore you will be able to use this data in order to come up with practical strategies and marketing tactics to make progress in your business.
If you want to be successful you need to be smart. Hospitality Epos software stores data such as purchase history which can be used in making plans. You can hire expert digital marketers to help you create targeted email and SMS marketing campaigns. These campaigns are based on customers' specific interests.
It's up to you how you use hospitality EPOS software to your advantage.
Poor Customer Service/Quality of Product
Customer service, along with good food/drinks, is fundamental for staying open. A great way to get customer feedback is in the form of comment cards. For every customer complaint that you receive, there are usually three more that are left unsaid and it is possible that they will leave a bad review online, which potential customers could see. This may result in a large number of people keeping away from your business in the future and have a negative impact on the profit margin. To avoid these kinds of mishaps, you must be able to train every new staff. Be strict because the future of your business depends on it.
Having a fast and efficient EPOS software can help you speed things up. No more lined up customers shouting their orders and getting angry because of the late orders. Even at your busiest time of the year, you can manage everything really fast by using a quality EPOS system.
Costs
It is crucial that you have a profound understanding of your costs, including what you are buying with your products and the markup for each one. Knowing how to accurately price your food or drinks menu is the first step towards making a profit. Always put quality first and allow yourself a reasonable profit margin to make sure every sale is beneficial for you.
EPOS software can be the best assistant you could have. It allows you to track and manage costs efficiently. Also, by using a good EPOS system, you will find out which of your products are customers' favourites, this way you can predict your customer's needs in advance and ultimately make better profits.
Lack of Branding
What can your business offer customers that distinguishes you? Original ideas can create a reputation and will guarantee that customers will come to you and not your competitors. It doesn't have to be a special food or drink you serve that makes you different from your competitors, it could be the service you give, the feeling you generate in your customers or the experience that you create.
Make sure your restaurant and brand somehow stand out from the crowd. There are essential factors that you should keep in mind when branding your hospitality business, including product, people, promotion and place. Consulting with experts could be beneficial if you have no prior experience in this matter.
Lack of Inventory Control
Profitability analysis and inventory control is a vital task of every manager or owner of a restaurant and bar, which must be carried out regularly in order to prevent theft and reduce nonessential costs. EPOS software can help you with this.
Pay special attention when writing the ingredients list for inventory items. It is important that you specify accurate amounts that are required to prepare dishes before cleaning, shaping, freezing, etc. in order to have a precise perception of the requirements of products and to have proper stock control.
Stock control is an important part of managing a restaurant. By using an EPOS system, you can get a full detailed inventory report. Ordering is everything when it comes to success.
Detailed Reporting
If you want to run a successful business, you need to have a full grasp of every aspect of it. Hospitality EPOS software offers various reports that can help you keep an eye on everything and pinpoint any hidden problems.
The most important report is your sales report. You can get an overview of all the completed transactions during the day. These reports should include net sales, tips, the number of guests, table turn time, and payment methods. Sales reports should provide an accurate overview of your business' performance including the things that are really important to you. Daily reports will help you identify your best selling products. With this information, you can increase the order of these popular products and cut out the unpopular items.
The second report that can help you a lot is the labour report. Hospitality EPOS software should provide an overview of every employee. This way you will be able to check everyone's productivity each week.
In addition, hospitality EPOS software can track restaurants' assets, revenues, and different expenses.
How to Take Advantage of Hospitality EPOS Software?
Boost Customer Experience
Hospitality EPOS software is designed to give you everything you need in order to provide the best customer experience in your business.
If you run a retail business or have a restaurant, you should pay more attention to this section. Your customers need the most precise information in the shortest time.
Your staff can enter an order into the iPad, tablet, or any other device they use right on point, therefore your chef can start preparing the appetizers while your customers decide what to order for the main course. If you can buy a kitchen display screen, this process would be much faster and easier.
Hospitality EPOS software lets you edit the orders, such as adding or removing a certain ingredient based on customer's preferences. Therefore all of your customers can order their meals exactly how they like. Keep in mind that some people have specific allergies or food intolerances, and with this feature, you can provide the best service to them as well.
It doesn't matter whether you are running a retail store or a restaurant, you should always be able to provide accurate product information for your customers. Hospitality EPOS software stores real-time inventories, therefore you will able to do a quick search and find your customers' specific products. Also, you can order any items your customers need and then notify them when their purchase will be available in your store.
Another advantage of the EPOS system is that you can link your system to your website. This way your customers can access updated data regarding stock and inventory at any time. Customers will feel included which will work out in your favour.
You can get a touch screen monitor to get customers involved in the purchasing process. This means faster service and happier customers. And everyone knows that happy customers tend to return to your store or restaurant. Therefore your profit will increase and you will be happy too.
Precise Cash Management
Whether you run a small business or a big one, handling your cash accurately is a very important task. Any mistake big or small can cause a lot of damage to your business and cost you a lot of money. Therefore it's crucial to keep track of every pound. Hospitality EPOS software offers cash reports that can be helpful throughout the day. Therefore you will be able to get instant reports if you encounter anything suspicious.
It's best to get the sales reports provided by EPOS software and compare it to your cash at the end of the day. Therefore you will know about any shortages or overages. The good thing about cash reports is that you have solid proof if you ever need to fire an employee for theft or poor performance. Hospitality EPOS software is the ultimate error finder. Employees may make mistakes, but with the help of EPOS, everything is taken care of.
Handling Inventory Efficiently
Imagine you run a busy store where customers are making purchases left and right. Hospitality EPOS software updates inventories every time a purchase is made.
However, handling inventory in a restaurant is a bit different as every meal comprises of several ingredients. You can programme your EPOS with specific ingredients, therefore you will be notified when your stock levels get low.
You can even set regular stock checks to make sure everything is in order and prevent anything that can cost you a lot of money. There are some EPOS systems that can be connected with suppliers, therefore orders will be automatically sent based on stock levels.
Hospitality EPOS software should be able to provide detailed reports of stock levels at any time.
We suggest choosing an EPOS system that doesn't limit you and leaves room for growth. Don't think that if you are running a small business it would always be like this. As you gain more experience, you become smarter and you can make progress in your business. So you will need a system that can fulfill your needs at any time under any circumstances.
If you need further information about EPOS systems, you can visit our website.  If you have any questions, our team is here to answer them.