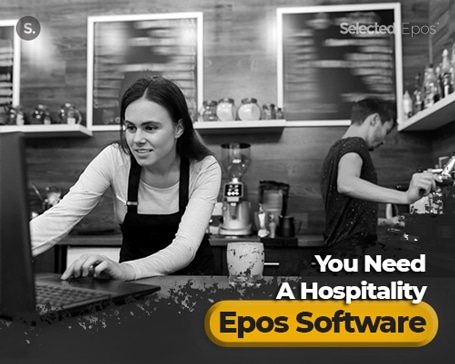 | | |
| --- | --- |
| | Managing businesses like restaurants, cafés, bars, pubs and night clubs have never been more difficult. Every business owner in the hospitality sector should grasp any tool and opportunity to grow their business. |
Managing businesses like restaurants, cafés, bars, pubs and night clubs have never been more difficult. Every business owner in the hospitality sector should grasp any tool and opportunity to grow their business. This highlights the role of hospitality EPOS systems as one of those tools in the industry. However, some people still don't see any reason why they should use them. Or simply they don't feel like having one. On the contrary, there are those businesses which can't live without a hospitality EPOS system. This group appreciate a sound EPOS solution. These two groups may have something in common. They both think of a hefty hardware bundle on a counter when they first hear the words: EPOS system. This might be one of the reasons to push the first group even further back.
Given this fact, if they knew they could do as much with EPOS software as they could with all those hardware peripherals and devices, they might change their minds. To exemplify this, hardware is the arms of the system, while the software performs as the brain. And while a brain may work without arms, the arms can never work without a brain. In other words, you can use simple hospitality EPOS software and enjoy the features you expect from a bulky system.  The only hardware you need may include card readers and tablets. However, your smartphone will do in some cases. Anyways, whatever the case is, you will need a hospitality EPOS software, if you want to:
Manage everything easily
Analyseprofessionally
Save time, money, and energy in the long run
Open a pop-up or mobile store
Have an EPOS system that takes little to no space
Now let's have a closer look at these 5 points.
If you want to manage easily
As suggested in the first line above, managing hospitality businesses have become difficult. Using EPOS software can take the hassle out of this. But what is management anyway? What are you going to manage? Well, in definition, management is the process of dealing with or controlling "people" or "things" with a goal in mind. When hospitality businesses like restaurants or pubs are in question, your staff and customers are the "people" and almost everything else such as inventory, floors and tables, orders, cash, etc. are counted as the "things". A hospitality EPOS software helps with managing both of those wide areas. However managing is one thing, managing easily is another thing. To make the difference crystal clear, you can think of communication. In the past, people could write letters, calling it communication. But nowadays, they can simply tap on a screen to make a video call. Just like no one would use letters as means of communication today, no one would overlook EPOS systems for some alternatives. With a hospitality EPOS system, you can manage everything and everyone from the front of house to kitchen literally at your fingertips.
If you want to analyse professionally
This one is not disputable. Even if you used all the paper planners or even excel spreadsheets to understate hospitality EPOS software, you couldn't take no notice of the fact that EPOS systems are rich when it comes to data and analysis. Of course, you can still argue that spreadsheets and experienced book keepers will do. But, then you would be thinking as if you were in the 90s. Hospitality EPOS software will provide you with every piece of information you need at a glance. It makes recoding completely effortless. On the other hand, proper managing can't take place without proper data. Hospitality EPOS software will provide you with valuable data ranging from sales data (managing "things") – through to staff performance data (managing "people"). That is called professional analysing.
If you want to save money, and energy in the long run
Energy-saving aside, this statement is a bit bold. EPOS systems are known to be costly after all. So how did we conclude that? To understand this, you should think of a domino effect where one thing leads to another. If you manage your operations the old-fashioned way, your staff will be more exposed to mistakes. These mistakes will then trigger the money-draining machine. For example, if your staff conduct a faulty stock-take, you might overstock an item, wasting good money on something that won't even sell. And as you know, money doesn't grow on trees, but does on customers. Speaking of customers; what if your staff can't handle the footfall in a rather fancy restaurant? Well the answer is clear. You will gradually lose your customers who are supposed to bring you the money. You can prevent the money loss just through the use of a hospitality EPOS software. And as for the energy-saving part, we won't even get to it as it is inevitable when you automate almost everything.
If you want to open a pop-up or mobile store
As said in the intro, you don't have to use a bulky hardware bundle. Hospitality EPOS software can run on tablets and smartphones. This is an awesome feature, especially for pop-up and mobile stores. Pop-up stores can't drag all those quite heavy devices around every time they move to a new location. Rather similarly, mobile stores or outlets can't install a hefty EPOS system in their vehicles. So, with software that can be easily downloaded onto your phone or tablet, you can manage your pop-up and mobile stores as efficiently as possible.
If you want to have an EPOS system that takes little to no space
Looking back at the last point, this might be a shared issue between mobile outlets and small corner shops. They both lack enough space to fit a EPOS system on their counters. The most reasonable way to tackle this problem is to turn to hospitality EPOS software. For example, if a garment shop has little space, they can simply run the hospitality EPOS software on their mobile devices. So if you are one of these small or even medium sized businesses, you most certainly need the app. However, the truth is, no matter what, EPOS systems will take space. Even if you went for only a software, you would need some devices other than your tablet or phone, such as card readers or individual cash drawers (if necessary, given the fact that only few people pay in cash these days). So, hospitality EPOS software will definitely take up space, but only a small amount.
Long Story, Short
In simple terms, businesses like restaurants, pubs and bars should use hospitality EPOS software if they want to survive in this competing industry. Here, we covered some cases that apparently make it more urgent for some businesses to acquire hospitality EPOS software. Although, there are still tons of other factors. Anyway, if you have decided to buy only hospitality EPOS software to streamline your business for any reason, we have good news for you. At Selected EPOS, we suggest a straightforward, feature-rich hospitality EPOS software that works on all devices. Get in touch to know more about our offers.