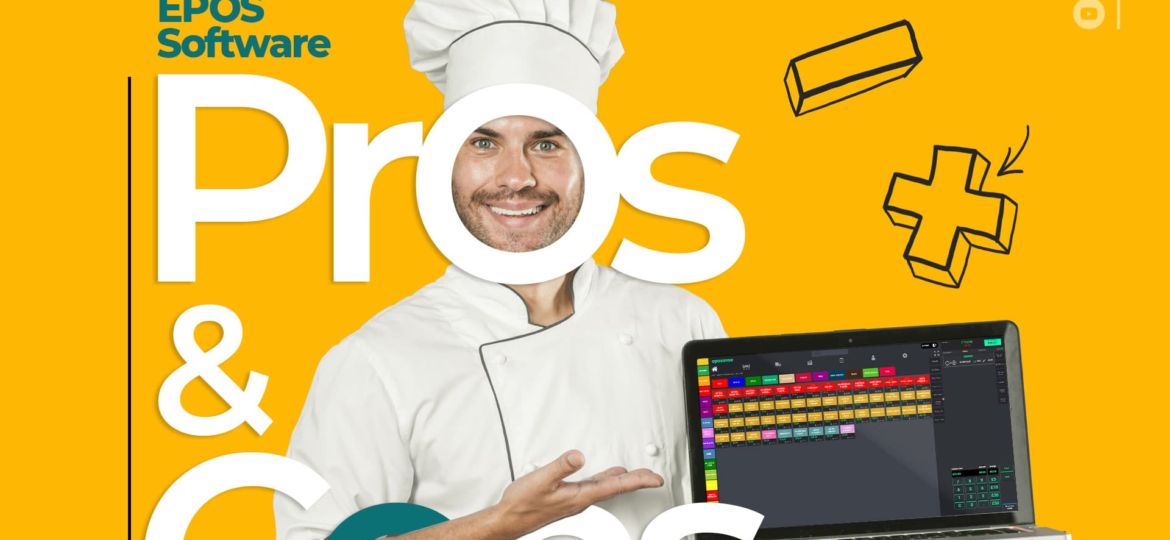 | | |
| --- | --- |
| | In the past few years, cloud-based Point of sales have become more and more popular as a practical alternative for small and medium retailers in particular. A Cloud-based POS system can be handled directly from the internet. |
In the past few years, cloud-based Point of sales have become more and more popular as a practical alternative for small and medium retailers in particular. A Cloud-based POS system can be handled directly from the internet. Business owners know that having a point of sale system is essential for having a successful business. A POS system has many advantages. However, not everything is perfect. EPOS systems have a few flaws as well. Let's go through the positive and negative features of point of sales real quick.
Pros:
Spotting Popular Products
Having a POS system means you have access to various types of reports. Advanced reports make it easier for you to identify which products are your best seller and which are not. Developing a sales strategy is easier when you can get full detailed reports from your POS system. Therefore you are able to change and adapt your products based on your industry.
A POS system offers a detailed analysis of your customers' behaviour pattern. Therefore you will understand your customers' needs and can offer them what they really want. This feature is great because not only does it save you time and energy, but also keeps the research costs to a minimum. Many customers don't have a clear idea of what they really need, but this way, you can check the data from your POS system and figure out what items might catch their attention.
Loyalty & Reward Programmes
The key to success is knowing your customers and establishing a connection with them. They are the ones that keep your business going. So it seems rather obvious that you should offer them special rewards to keep them coming back for more. That's the definition of loyalty. You offer them something unique that they don't receive from other stores or restaurants. This act has a huge effect on them and encourages them to keep using your services. All the information about your customers will be stored on your POS system. You will be able to use this information to find their favourite items. Then you can think of special offers suited to every one of them. This will generate a sense of worthiness that will be beneficial in the future when they want to make other purchases.
Time is Money
You need to remember that every second you spend on something that can be done more efficiently by a POS system, is another second that you are neglecting your customers. This is just one example of a waste of time. If there is a device that can help you save some time and as a result, money, you should absolutely take advantage of it.
You can use your POS system to track every delivery of every day. The POS system will show exactly how many items have been sold during the day and how much of them are left in inventory. Your POS system can submit orders to the suppliers when certain products are at a low level. All the information about each product is safely stored on the POS system. So when a customer asks you something about a particular product, the system can present the information you need to answer their questions. Therefore, the waiting time will be reduced and your customers will be impressed. This means better service which ultimately means more customers.
Even if you have problems calculating taxes or your profit margin, the POS system will take care of it for you.
Cut the Mistakes
If you think tiny mistakes that are made now and then will be forgotten, you are right and wrong at the same time. Yes, some customers have tolerance for tiny mistakes, but what about the high profile customers that choose your restaurant or shop instead of many others, will they tolerate mistakes as well? Of course not. So this is a critical issue that needs to be fixed before causing any kind of trouble for your business.
The POS system will help you with this. If you ever need to change a product's price, your POS can do it automatically. Therefore all the prices are updated in the entire system.
Reducing mistakes helps with speed too. Everything will be done faster. Whether it's answering your customers' questions or handling the payments at the check-out counter. No mistakes, no embarrassments, satisfied customers.
Various Sales Reports
It's essential to keep an eye on every aspect of your business. This is possible if you get detailed reports for each section. Making full reports is tiring and can be done wrongly often. That's the thing about humans, we might make mistakes at some point. Any mistake can be costly for you or even cause more serious troubles. So how about using a POS system that will eliminate any manual errors?
The information about each part of your business like inventory, profit, sales and etc. is stored on the POS system.
When you have several reports you can plan everything in advance and be ready for anything as well. Again, this helps in saving time. Imagine your manager had to spend hours and hours writing reports for you, the time that could be spent on improving the areas that are not 100% perfect.
Cloud-based Infobox
As a business owner, you fear data loss at all times. What would happen if someone stole your data or hacked your system?
A cloud-based POS system can store and backup your data on a digital space. This digital space can be a lifesaver especially when you are travelling or sick or just too busy to visit every location yourself. But the most important thing about a cloud-based POS system is that you won't have to worry about losing critical data of any kind.
You can access a cloud-based POS system at anytime and anywhere.  You will be able to manage your inventory across all locations.
Also, many cloud-based point of sales offer fully detailed reports which can be very useful when you want to have a quick look at your business's status from wherever you might be.
Cons
Updates
A software-based POS system needs regular updates and these updates can be very costly. Also, these updates might cause some problems for your system and therefore you will need help from an expert to fix the issues.
In addition to the software update, you might need to update the hardware as well which will cost you a lot.
Security Problems
When customers use their cards to pay for their purchase or order at the checkout counter, there's a chance that other customers might learn their pin and take advantage of it.
In addition, since a web-based POS system is connected to the internet, it faces privacy and security risks. Cyber-attacks can happen at any time. Even if your POS provider offers strong security protection options, there's never a 100% percent guarantee that all your data is safe.
Training Costs
When you buy a new system for your business, you need to train every staff member on how to use it properly. Training sessions from experts can cost you. But we think it's best to train your staff from the get-go so you can avoid any mistakes in the future. Your staff will be using the POS system every day, and everyone must know how to work with it in case any employee can't cover their shift that day or arrives a little late. It would be wise to consider every possibility and take the necessary precautions.
Constant Connection
A reliable Internet connection is a must if you have a web-based POS system.
Do you remember all those great features of cloud-based POS? No internet means no cloud features as well.
If this happens, your customers won't be able to order, staff members can't clock in or clock out, and the kitchen won't receive the orders anymore. This situation will cause damages and stores as a negative point in your customers' minds.
If you have read this whole article you might be a bit confused right now. However, you should remember that there's always a solution for every problem. If the pros weigh heavier, then you have your answer. Talk to some professionals and get on with it. After doing tons of research, you will definitely find what you're looking for. The process may take time, but it will be worth it. Just make sure to write down your questions so you can ask them from your POS provider.
Check out their support team because at some point you are going to need their help with something. If they were attentive and committed, you are in good hands. Also, if you've already hired your staff, you can set a meeting with them to see if they have any questions or not. This way you will be one step ahead at all times and can make better decisions.
Always consider what's best for your business.
Whenever you need extra consultation, we are here to help you too.