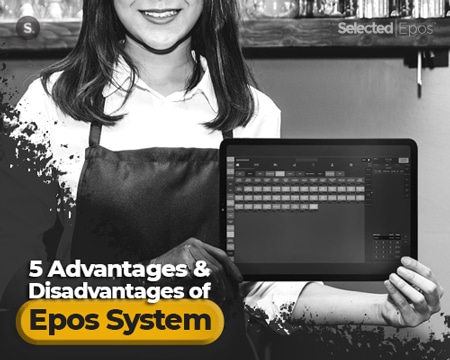 | | |
| --- | --- |
| |  Nowadays, everybody knows what a Point of Sale system is, what it does, how important it is and finally how it helps businesses grow, especially the small to medium-sized ones in the hospitality and retail sectors. |
Nowadays, everybody knows what a Point of Sale system is, what it does, how important it is and finally how it helps businesses grow, especially the small to medium-sized ones in the hospitality and retail sectors. It's also common knowledge that EPOS systems have many great advantages. As a matter of fact they would have already ceased to exist, had they not met the needs in the market. So, what is the question, here? Actually the question is meant for you: Have you ever done some research to find the advantages of EPOS solutions to make better decisions? Besides, and even more importantly, has it ever crossed your mind that EPOS systems might be just fairy tales and not what EPOS providers are gushing about?  Here, we will look at 5 advantages and disadvantages of EPOS systems that you must know before making any decision.
Advantages
As just mentioned, everyone knows the importance and positive impact of a POS system. So, without further ado, let's just dive into the advantages of EPOS systems. In a nutshell, these systems:
Offer full reports and analysis
Guarantee ultimate accuracy
Speed up your processes
Help manage your stock professionally
Do the work for you
Offer full reports and analysis
One of the first reasons that will probably convince a business owner to purchase an EPOS solution is the benefit of having all the data they need to hand. EPOS software tools usually offer the business owner or manager various reports which prove vital, if they want to improve their bottom line. The data comes in the form of reports. If not used for the said purpose, it can serve to impress and motivate employees, investors or partners and assure them you know your business. A sophisticated EPOS system should offer detailed reports within different frame times such as days, weeks, months and even years.  This way you will have a better appreciation of your business's progress.
Guarantee ultimate accuracy
Data analysis and reports are all irrelevant, unless they are accurate. Accuracy must be considered from the moment you put in the data to when you print a report. However, one of the most important side of the business that requires accuracy is accounting. This can be fulfilled only through the use of a detailed inventory and receipt tracking in your EPOS system. The exact very data you gather from tracking the inventory and sales will enable you to spot mistakes and probable discrepancies.
Speed up your processes
Just like accuracy, speed is vital when it comes to processing sales transactions, sums, sales and stock data. Actually, speed was originally one of the main reasons for developing electronic Point of Sales systems. They can speed up key business processes like accounting, stock management and sales performance. The upside is you could even add to the speed by employing different tools and tricks. For example, you can save time and prevent any typos by having a touch screen and a barcode scanner in place to streamline the billing process.
Not only will this save you time, but also it will save you money significantly as it eliminates the need for a mouse, a keyboard and the cost of maintenance, which is, by the way, a disadvantage of EPOS systems. We will get to that in a minute.
Help manage your stock professionally
Just imagine a local food or grocery store. Thousands of small bottles are stored and moved around all the time, making it rather impossible to keep track of everything without a Point of Sales system. Therefore, as far as tracking the inventory is concerned, the nature of this type of business requires such equipment to help know exactly what is in the premises.
Do the work for you
We are humans and humans make mistakes from time to time, if not often. Our mistakes may cost us a fortune sometimes. So why not get rid of the problem once and for all. You ask, "How?" By cutting the cause of the mistake out of the process, i.e. the human. EPOS software automates every process from re-ordering items through to scheduling of the software updates, to even some extent the sale management. For example, it can automatically deactivate the add-to-cart button for the out-of-stock items to save you the embarrassment.  It can also automatically subtract the quantity of a specific item from the inventory just right when it's sold.
Disadvantages
In spite of all the benefits you can reap from an EPOS system, there might be some disadvantages. However, they seem more like challenges than real drawbacks. Anyway, you still need to know what the costs are and what you should pay. After all, buying an EPOS system is as much of a trade-off as not buying it is. Meaning, it doesn't come without "giving" if we look at it from a "give and take" point of view. There is always a balance between what you give and what you get back. So, let's look at some challenges you might face with an average EPOS system. In a nutshell, these systems are:
Costly but worth it
Need to be regularly maintained
Need updates for better and more functionalities
Make you over-reliant on technology
May be daunting to train new staff on
Costly but worth it
One of the reasons that may make you hesitate to buy an EPOS system, is definitely the cost. On the face of it, it seems like a horrible idea to spend much of your turnover on just a system. The problem is how you spin this.  Purchasing an EPOS system is not an expense or another overhead, but rather an investment. It is one of those tools that pay for themselves in the long run. Besides this, you wouldn't be buying just a system. EPOS systems are not only a computer. They usually include other devices and peripherals such as cash registers, barcode scanners and so on, as well. You might be still asked to pay a little extra for those accessories. So how can you make the most of the advantages, if you are not willing to pay for them? Anyway, if you still don't think it's a good idea to buy a whole hefty bulky hardware bundle, there are way much cheaper options such as software only deals. Similarly, rental options and subscriptions can buffer a sudden hit.
Need to be regularly maintained
Remember how I said we are humans and humans make mistakes. Here is the flaw with machines. While they make little to no mistakes, they still break, hanging you out to dry. EPOS systems are still machines, and therefore, not immune to breakdowns. That aside, having an EPOS system may be still good because everything will be computerised and automated. To stop the breakdowns, EPOS systems just like any other devices need to be regularly maintained. You cannot afford to leave them without maintenance or else your business will suffer. Again this is what you have to do to benefit from the automation.
Need updates for better and more functionalities
Very similar to the need for maintenance, EPOS software requires updates. Of course, this challenge is not usually due to insufficient software design or coding. You ought to update your EPOS software in order to meet the new trends, needs and new security standards that come with each patch your manufacturer develops.  In plain English, EPOS systems must be constantly updated to keep up with the competition as well as with modern technologies. Just to get a picture of how your business would be with an outdated POS software, read this short anecdote posted on the web:
"Not a day goes by that we discover errors for inventory, orders, prices, etc which is blamed on the program. It is most likely due to the program being almost 15 years old. It is extremely clunky and slow, has a terrible UI, and is generally a pain to do any simple task. … It is extremely inefficient to run our business with this outdated software any longer."
Make you over-reliant on technology
This one is a controversial idea. It is not really a disadvantage and not even a challenge either. Simply, some people think it is not the best idea to over-rely on technology. However, they don't point the finger directly to EPOS systems. In this view, EPOS systems are as frowned upon as smartphones or other technologies such as calculators. They argue that regular use of technologies such as EPOS software undermines the human's brain abilities. For example, if you kept using EPOS software to total up the costs all the time, you would gradually lose your ability to do a little complicated math problem.
May be daunting for you to train new staff
This one is the real hassle and challenge with EPOS software. It is what most business owners complain about. It is daunting to train new staff on the software, if the app fails to be user-friendly. If this is the case, the service you are offering your customers will be hindered, resulting in flustered unhappy customers who probably will choose your competition the next time over you. This makes tutorials and support teams an asset. If your provider offers you tutorial videos just like what we do at Selected EPOS, make sure you don't miss them.