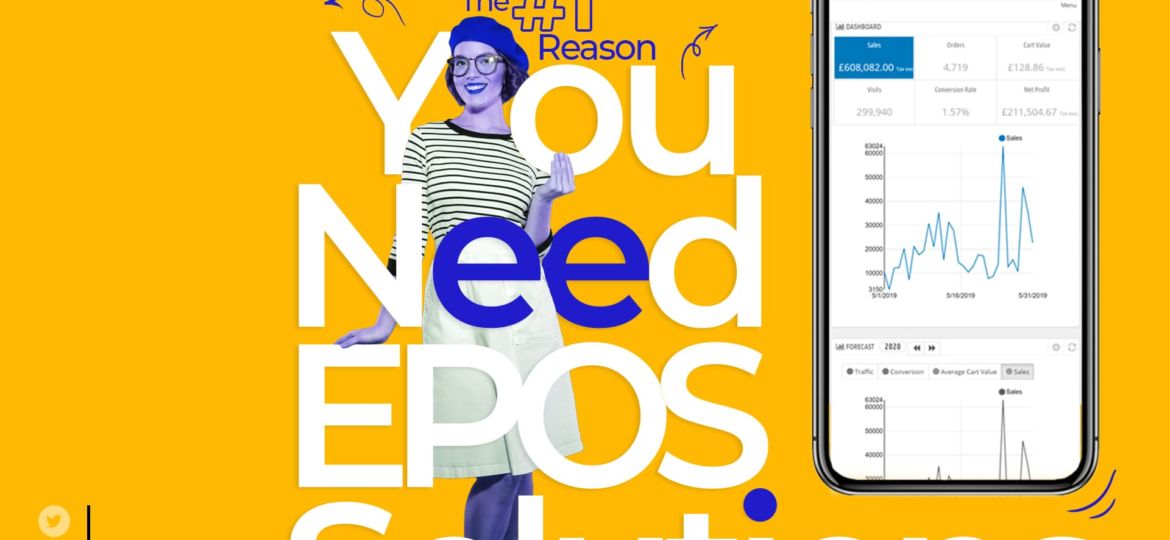 | | |
| --- | --- |
| | It is almost impossible to name just one reason as to why you need an EPOS system. But in our opinion, the number one reason would be this: An all in one solution for your success. Let's discuss what this phrase actually means. |
It is almost impossible to name just one reason as to why you need an EPOS system.
But in our opinion, the number one reason would be this:
An all in one solution for your success.
Let's discuss what this phrase actually means.
The most important thing you need in order to build a successful business is to know what is going on in every aspect of your business. You may ask what's there to know exactly?
Well, let's make a list and go through it point by point.
1.Sales Reports
Complete EPOS solutions give full sales reports. These reports are based on numbers and accurate data so you don't have to worry about manual errors. You can compare your sales reports with your business plans and see if you are on track or not. After checking these reports you are able to make plans for the future and come up with new ideas to make progress.
If you don't use hospitality EPOS solutions, you have no choice but to ask your manager or one of your employees to write these reports. It would take a long time before you receive precise reports and it might lead to unforeseen troubles. You might run out of a favourite product and that would be embarrassing if a customer orders that product at the same time. Your reputation will be at risk.
2.Better Customer Experience
Your customers should be your number one priority. Every business owner likes to have loyal and happy customers. Well, this takes a lot of effort. If you are just starting your business and have not built a customer base yet, you need to dazzle them in a unique way. Hospitality EPOS solutions can be a great tool for this purpose. You will be able to speed up the checkout process while maintaining accuracy.
If you run a retail shop that offers various products, it can be difficult to check the available items without complete EPOS solutions. Imagine you have a customer that asks for a specific item, you can't have your staff running to the storage to check if the product is available. This would take a lot of time and your customers will not be happy about this. But with the help of retail EPOS solutions, your staff can check the stock reports at any moment.
In addition, retail EPOS solutions can help you track your customers' behavior and find out which items are their favourite so you can think of discounts and loyalty programmes for them. Studies have shown that before customers make their decision to buy a product from you, they like to feel appreciated first. You have to show them you care about them.
Alter your services based on your customers' likes and dislikes, you won't regret it.
3.Marketing Advantages
So, do you remember the previous point? Complete EPOS solutions can store data about everything including your customers. You have a system that can collect customers' emails. With this option, you can notify them about special offers. Also, customers' information will come in handy when you start your marketing plans.
Every customer has unique preferences, by keeping tabs on their purchase data, you can suggest special offers tailored to their needs, not random offers that might not even be interesting to them. Also, email campaigns are a great marketing tool that can help you promote your brand. So, when the time comes, you can easily start your campaign knowing that you have all the information you need.
With retail EPOS solutions, you are connected to your customers at all times. Make sure to make such an impression on their mind that when they decide to make another purchase, your name will be the first name that pops in their head. This is how you can get loyal customers.
4.Everything Will Be Done Faster
In the old days, employees had to do everything manually, from checking price tags to handling the cash register. Complete EPOS solutions have made everything a lot easier and faster too. With the click of a few buttons, your staff will be able to check and manage everything. Every item with a barcode can be easily scanned anywhere in your store and paid for right on the spot.
Even managing inventory will be done faster. You can have a look at your stock levels to see which products are running low, which have been selling more and etc.
There may come a time when you need to check your old receipts for some reason, retail EPOS solutions search tools have made this so easy.
You won't have to go through every receipt to find what you're looking for, isn't this perfect?
Your customers walk to your store to have a look around after a long day, the last thing they want is to wait a long time at the checkout point. This is when retail EPOS solutions can speed things up.
Being able to do everything faster saves a lot of time. You will be able to focus on more important things like providing the best service for your customers, train new employees, check customer data, and find out which products are their favourite and so much more.
5.Monitoring Everything
We all want to believe in the best of people, but when it comes to your business and money, you should not take any risks. You should monitor the activities of every employee thoroughly, especially the new members of the team. Complete EPOS solutions enable you to review your staff's activity. Some of your employees may be doing very well and as such, they deserve a reward and some of them might cut corners every now and then. You will need a system that provides accurate data, the kind you can trust. Therefore you will be able to make informed decisions. Many employees take advantage of their boss's gullibility and say negative things about other staff members. Complete EPOS solutions can help you find out those who are team players and those who are not. In spite of people, numbers never lie and therefore you can depend on them.
6.Use It Anywhere
If you are a business owner who runs multiple stores, it's logical that you won't be able to check on every store in person. So what could be the solution?
Cloud-based retail EPOS solutions are what you need. You will be able to get reports about every store you own in a short time, no matter where you are or when you need the information.
Cloud-based retail EPOS solutions process and store sales data online as opposed to locally on your computer or on-premise server.
The frontend POS interface is made for use on internet-enabled devices including tablets, smartphones, and touchscreen monitors, while the backend can be accessed through any web browser. All data will be updated on the cloud in real-time.
If you decide to use cloud-based retail EPOS solutions, the cost of equipment will be lower because you can use an iPad or mobile phone as the POS interface.
All data that is stored on the cloud is safe and secure.
If by an unfortunate incident you lose your hardware, you have nothing to worry about because you can access every information you need by logging in to your account from any device.
So here you have it. We tried to give you a glimpse of why you absolutely need an EPOS system for your business. The important thing to remember is that every business is unique and therefore, requires unique tools in order to succeed. However, if you purchase the right EPOS system, you can use its features to your advantage.
Training sessions can help you get familiarized with the system and figure out what you can do with it in order to improve your business in every way. Ask your EPOS supplier to inform you of every feature available.
We advise you to do tons of research before buying an EPOS system. If you are concerned about the cost of complete EPOS solutions, don't be. Buying the right EPOS system is an investment in the future. Achieving your goals will happen a lot faster if you possess the right tools.
You can even talk to someone who has used EPOS systems and ask them if they were satisfied with it or not. However, keep in mind that experts can give better advice. So you can hire an advisor to help you with this process.
Keep in mind that the support team is just as important as the EPOS system. You can't predict the future and there is always a chance that you run into problems or the system might crash, you can't wait for days and days to hear from the support team. You have customers and they are depending on you and you are depending on your EPOS system.
Remember that complete EPOS solutions have a lot of features. We only talked about a few of them here. Reach out to us if you have any questions and we will help you in any way we can.