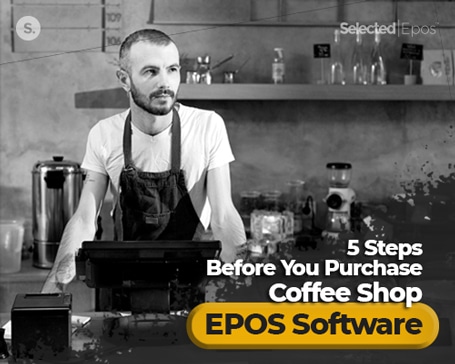 | | |
| --- | --- |
| | Adding a pivotal system to your business is a high-stake decision to make. The stakes go even higher, especially when you happen to be a rather small business like most coffee shops. EPOS software for coffee shops bears the same amount of risk. |
Adding a pivotal system to your business is a high-stake decision to make. The stakes go even higher, especially when you happen to be a rather small business like most coffee shops.
EPOS software for coffee shops bears the same amount of risk. Just imagine the row of consequences when you wind up with the wrong coffee shop EPOS software. It could be wrong in many ways.
First, the coffee shop EPOS software you have invested in, might not have been even intended for your business type: a Coffee Shop.
Secondly, it may not deliver what appealed to you at first sight. And after a month or two into the actual work, you will realise that your once beloved coffee shop EPOS software is "just a pretty face".
Third, it can cost you way more than it benefits you.
To save you the time, I stop counting.
To be realistic, you are not immune to these unwelcome situations. And if they do happen, you will find yourself under a load of regrets and left with empty pockets. So, in order to stop that, you need to take 5 steps before you purchase your coffee shop EPOS software.
Know Your Business inside out
First and for most, start with knowing your own business. To know what you need (next step), you need to first recognise what you and your business are. If you are reading this article, you are probably either a coffee shop owner or thinking of becoming one. Either case, you have to know your industry inside out. Otherwise, you will keep making wrong decisions sabotaging your entire establishment and investments. For example, if you were a small local coffee shop that has been in business for only six months, the last thing you would need is a ubiquitous huge brand coffee shop EPOS software. Because then you will be only paying for the name and not a system that is meant to make your life easier.
Agreed, this step sounds like a generic piece of advice or a platitude. However, it being generic doesn't change the fact that it is true. Enough with the preaching! Now let's see how to know your business.
Just to give you some prompts, start asking questions such as "what do I sell?", "where is my business located?", "how many employees do I have?", and "what is my selling point?". The questions are endless. You can come up with your own questions. Maybe you are wondering what these questions have to do with buying a coffee shop EPOS software. Well, let's consider the first one so that you can have the lead to connect the rest of the dots.
The answer to the first question: "what do I sell?" helps you know what type of EPOS hardware bundle you will need. For instance, if you are a coffee shop where people only hangout and drink Espresso, and you don't have takeaways or anything on sale for the customers to take out. Then, you will not need a barcode scanner whatsoever, unless you have other needs.
Figure out your needs from a coffee Shop EPOS software
If you have covered everything in the last step, you won't have difficulty with this one. Here, you have to go through some questions. Depending on your answers in the previous step, your new questions vary. However, this type, it is a little bit simpler. You will deal only with one type of question which is rather easy to guess: "What are the needs of …?". Let me walk you through it, just in case.
Take the second question as an example. Where is your business located? If it is in the High Street, then you will hopefully have high footfall. Then, having a coffee shop EPOS software that offers the best solution to control that is a must. Following this lead, you can answer your other questions. The biggest benefit this step does is that it stops you from paying for what you barely need.
See how much you can afford
No Money, No EPOS. This is the hard truth about EPOS systems. If you want to buy coffee shop EPOS software, you have to pay for it. There is no way around it. Even though you will find various prices from different EPOS makers. Some are higher and some are lower. We will discuss it in the step to come. The difference between this step and the next one is where to look. Here, you need to fish deep in your own pocket for coins. Whereas in the next step, you will be looking at the prices on the market. Now, the last two steps come in handy. Just a little reminder. Beware that you aren't supposed to just look into your current saving accounts. You should be, too, considering the amount you can rise in the future.
This is because the saving account is only for when you want to buy a coffee shop EPOS software outright. However, this is not always the case. You will have the option of a subscription payment model, as well. So, don't settle for a faulty EPOS system just because your savings fall short. You can count on the future cash pouring in based on your business prospect. Having done the math, and coming up with a sheer number, you are ready for the next step.
Find the best deal that works for you
Now start looking outwards. Go through a thorough inspection on the deals out there (but not too much, I will get to that in the next step).  While there are so many facets of a coffee shop EPOS software, you can pick out two most important ones namely price and benefits. So, let's first deal with the price. Going through the last step, you now know how much you can afford. It is time to see what the best options are. In doing so, don't just look at the tag prices, or the discounts and special offers. Try to focus on payment options as well. Actually, this is what decides whether or not you can afford a given deal.
Now it the benefits' turn. Most buyers of EPOS confuse benefits with features. Features are the attributions of the object, while benefits answer the question "what's in it for me?". So, next time when you come across a deal on the internet, make sure you ask for the benefit, and not for the features. This is because most EPOS sellers ramble on about their product features, leaving out what it helps your business with.
You can read the A-Z of EPOS for coffee shops to know what you should be looking for in an EPOS system for your coffee shop.
 Don't look around too much
As widely agreed upon by phycologists, you can't think straight when you are given too many options. So, while it is a good idea to go out of the box and look around, it is not the best idea to look around too much. This will give you a sense of uncertainty. And even if you cut the best deal, you wouldn't feel satisfied as you may think the other options were far batter. This is where the "the grass on the other side is greener" kicks in. Deflect it by removing the root cause i.e. too many options at hand.
Here is a little guide on how to do that. Actually, if you have gone through all the previous steps before, you automatically would not have this problem whatsoever. The last 4 steps helped you discover what you want. If you know what you want, you won't be easily swayed by coffee shop EPOS software makers. So the punch line is: Know what you want, find it, stick to it.
Since you are here …
If you are looking for a coffee shop EPOS software, you can get through to our experts based in Brighton to find our latest deals. You can also read about the benefits of our coffee shop EPOS software.